Nuchal Translucency Ultrasound
How to Get a Nuchal Translucency (NT) Ultrasound
The Nuchal Translucency ultrasound can only be done from 11 weeks 2 days to 13 weeks 3 days of pregnancy (when you are about 3 months pregnant). Talk with your health-care provider if you would like to get this ultrasound. In Ontario, this test can be arranged by:
doctors (such as family doctors, obstetricians)
nurse practitioners
midwives
Your health-care provider should give you a completed requisition form and will either schedule this ultrasound, or will instead instruct you to book the ultrasound yourself by calling the phone number on the requisition.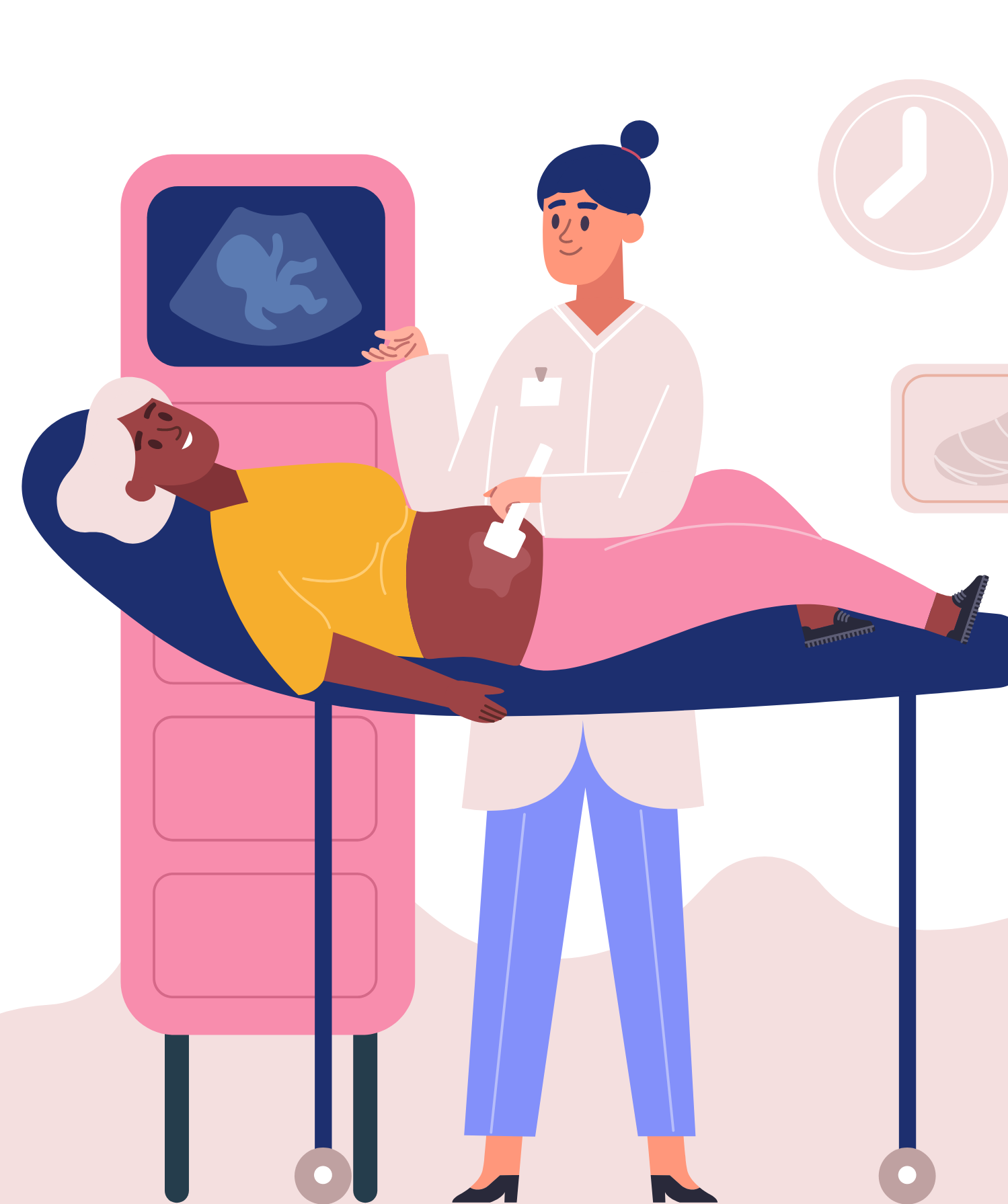 Facilities that Offer NT Ultrasound
The ultrasound is done at a hospital or a clinic with a certified NT sonographer or doctor.
If you or your health-care provider is looking for a facility that can do the NT ultrasound, you can use the interactive map below by zooming in to locate a NT ultrasound facility near you. As you zoom in, you'll see the name and street address of each facility. Click on the name of the facility to link to a webpage with more information.
Disclaimer
This map is merely a tool to assist providers and the public in locating NT ultrasound services in Ontario. The following caveats apply:
Inclusion of any facility on this map does NOT imply PSO endorsement or assurance of the quality of services provided. This map is to be used for informational purposes only. PSO cannot guarantee the accuracy of the information provided. This information should not supersede advice from a qualified medical professional.
This map is updated monthly by PSO and may not be an exhaustive list of all facilities that offer NT ultrasound in the province.
If you are a facility offering NT ultrasound and would like to be included, or removed, from this map, Please contact PSO@BORNOntario.ca
Who Can Have the NT Ultrasound?
The NT ultrasound is an option for any pregnant person who is early enough in the pregnancy to have it, regardless of their prenatal screening choice.
The NT ultrasound can be done if:
You are choosing enhanced First Trimester Screening (eFTS)
You may be having the NT ultrasound as part of enhanced First Trimester Screening (eFTS), which uses information from this ultrasound to give you a chance that the baby has trisomy 21 or trisomy 18.
You are choosing Non-Invasive Prenatal Testing (NIPT)
You may have already had another prenatal screening test in this pregnancy, called Non-Invasive Prenatal Testing (NIPT). A NT ultrasound can still be done even if you had NIPT. The NT ultrasound gives you additional information that about the growth and development of the baby.
You are expecting one baby, but experienced a "vanishing twin"
If you are aware that your pregnancy started as twins, but one twin was lost (vanishing twin / co-twin demise), you still have the option of prenatal screening. You can have a NT ultrasound, followed by a blood test later in pregnancy (the second trimester).
You decided not to have prenatal screening
If you decided not to have a prenatal screening test for trisomy 21 and trisomy 18, you can still choose to have a stand-alone NT ultrasound to get information about the growth and development of the baby.
Why the NT Ultrasound is Done
The nuchal translucency (NT) ultrasound can give you information about the health of the baby, and can be done only at a certain time in pregnancy: from 11 weeks 2 days to 13 weeks 3 days.
It is a normal part of development for every baby to have some fluid at the back of the neck at this time. This pocket of fluid is also called the nuchal translucency (NT).
When there is an increased amount of fluid from what we typically see, there is a higher chance for the baby to have a genetic difference, such as trisomy 21 (Down syndrome) and trisomy 18 (Edwards syndrome), or that there is a difference in how the baby grows and develops.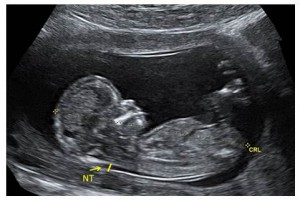 Other Information from NT Ultrasound
At the time of the ultrasound, the sonographer or doctor who does the scan can also accurately predict your due date, determine how many babies you are expecting, and can have an early look at the baby's body parts (such as the head and the heart). The baby is still too small at this stage to be able to see the body parts in detail. There may be differences in how the body grows and develops (such as a heart defect) that cannot be seen at this ultrasound, but will be more obvious later in pregnancy at the 18-22 week ultrasound.
How Long Does It Take to Get Results?
It takes a few business days for your health-care provider to receive the results of your NT ultrasound. If you had this ultrasound as part of the enhanced First Trimester Screening, your health-care provider will get those results separately.
What Do the Results Mean?
The cut-off for this test is 3.5 mm. A measurement smaller than 3.5 mm is considered normal or typical, and a measurement that is 3.5 mm or above is considered increased.
Normal NT measurement (less than 3.5 mm)
If your NT measurement is normal / typical (less than 3.5 mm) and your prenatal screening results are "screen negative" or "low risk", then there is a lower chance for your pregnancy to have trisomy 21, trisomy 18 or other conditions that can be picked up through these tests. No test can look at everything, and therefore a normal result does not guarantee the birth of a baby without any genetic conditions or other health concerns.
Increased NT measurement (3.5 mm or more)
If you are told that the nuchal translucency measurement is considered increased (3.5 mm or greater), it is important to remember that it does not mean that for sure there is a difference in how the baby is growing or developing.

You should be offered an appointment to a specialist in genetics to discuss the results of the ultrasound in detail, and your options for further testing.