Nuchal Translucency Ultrasound
The nuchal translucency (NT) refers to the pocket of fluid at the back of the fetal neck. The measurement of the nuchal translucency is part of the combined screening test for trisomy 21 and trisomy 18, called enhanced First Trimester Screen (eFTS). An increased NT measurement increases the chance for other chromosome differences, additional genetic conditions, and can also be helpful to predict structural differences that might be more obvious later in pregnancy (such as a heart defect).
At the time of the NT ultrasound, the sonographer or physician who does the scan can also accurately predict your due date, determine how many babies you are carrying and examine the early basic structural development of the fetus.
Although the NT ultrasound can be performed as part of eFTS, it can be also be done on its own. If you decline prenatal screening for trisomy 21 and trisomy 18, you can still choose to have a NT ultrasound.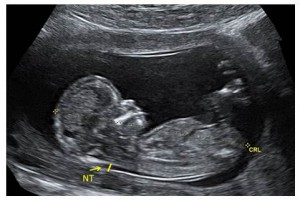 How to get a NT ultrasound
If you choose to have a NT ultrasound, your health care provider will arrange it for when you are 11 weeks 2 days to 13 weeks 3 days gestation. Your health care provider will schedule your NT ultrasound at a hospital or a clinic with a certified NT sonographer or physician.
Facilities that offer NT ultrasound
See our interactive map to find facilities offering NT ultrasound in Ontario.
Zoom in to locate a NT ultrasound facility near you.
As you zoom in, you'll see the name and street address of each facility.
Click on the name of the facility to link to a webpage with more information.
Disclaimer
This map is merely a tool to assist providers and the public in locating NT ultrasound services in Ontario. The following caveats apply:
Inclusion of any facility on this map does NOT imply PSO endorsement or assurance of the quality of services provided. This map is to be used for informational purposes only. PSO cannot guarantee the accuracy of the information provided. This information should not supersede advice from a qualified medical professional.
This map is updated monthly by PSO and may not be an exhaustive list of all facilities that offer NT ultrasound in the province.
Please contact pso@bornontario.ca if you are a facility offering NT ultrasound and would like to be included, or removed, from this map.
Unable to Access NT ultrasound
When there is no access to a hospital or a clinic with a certified NT sonographer or physician, a prenatal screening test called Non-invasive Prenatal Testing (NIPT) is now temporarily funded by OHIP as a response to the COVID-19 pandemic.
At your NT Ultrasound Appointment
If you choose to have NT ultrasound, the sonographer or physician who does the scan will record your NT measurement on the enhanced first trimester screening (eFTS) requisition. This measurement, along with bloodwork and additional clinical information, will be sent to one of the Ontario Multiple Marker Screening (MMS) labs. The lab will use this information to calculate the chances that your pregnancy is affected with trisomy 21 (Down syndrome) or trisomy 18.
Increased NT
If your NT measurement is increased, (ie 3.5 mm or greater), you should be offered an appointment for genetic counselling to discuss your options for further testing.