Trisomy refers to a person having three copies of a chromosome, instead of the typical two. Trisomy 13 (also called Patau syndrome), is a condition that is caused by an extra copy of chromosome 13 due to an error in cell division that occurs very early in pregnancy. This extra copy of chromosome 13 is usually found in every cell of a person's body. Trisomy 13 typically occurs by chance; there isn't anything a person does or does not do, to cause this condition. When a person has an extra chromosome 13, it disrupts the typical pattern of development resulting in a severe, life-limiting condition with physical abnormalities affecting many different parts of the body.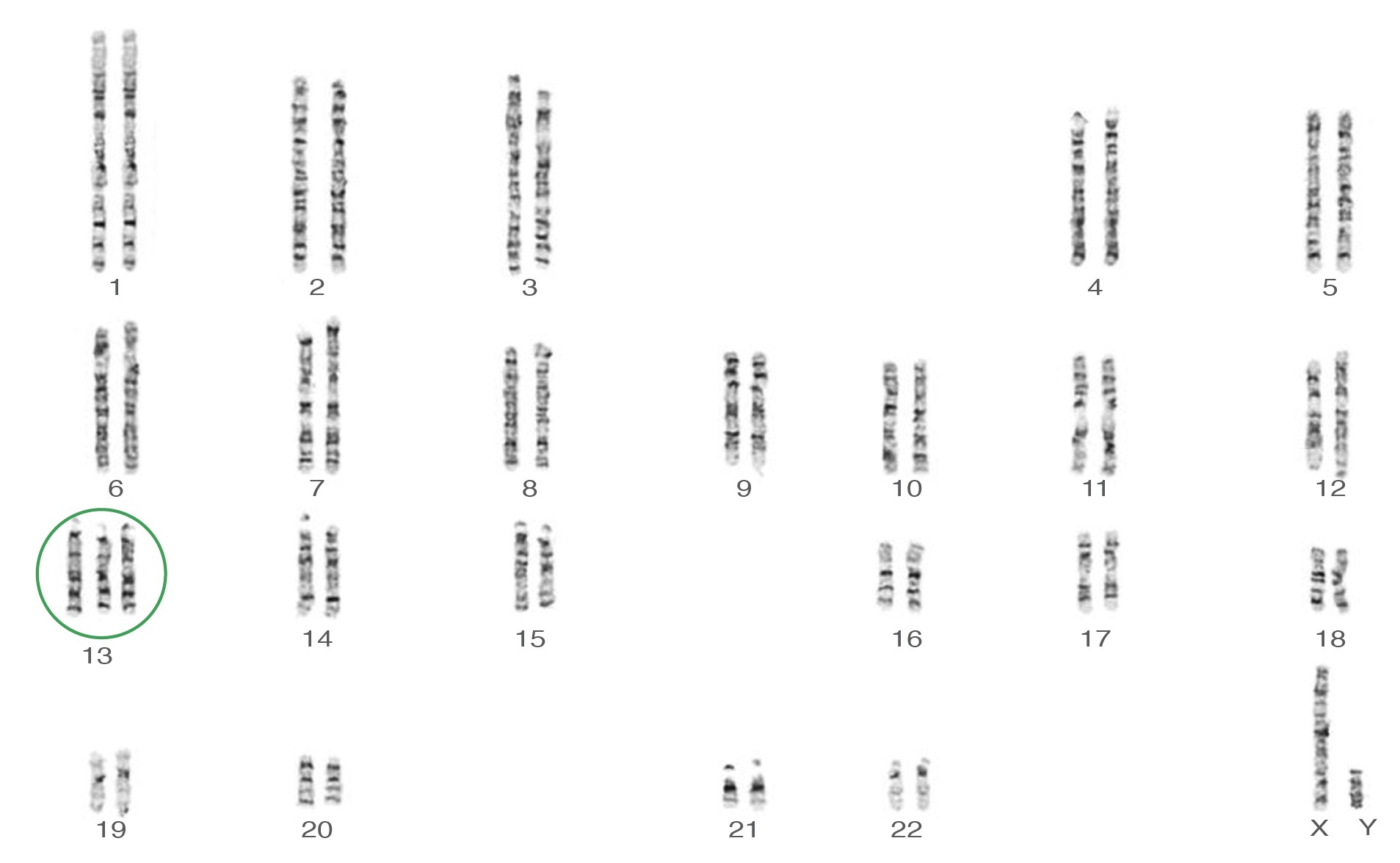 trisomy 13 karyotype
Illustration adapted from Genetic Counseling Aids, 7th Edition, Copyright 2020, permission for use granted by Greenwood Genetic Center
Types of trisomy 13
Trisomy 13
Most cases of trisomy 13 result from an individual having three copies of chromosome 13 in every cell of their body instead of the usual two copies. This type of trisomy 13 is typically not inherited.
Mosaic trisomy 13
Some individuals with trisomy 13 have an extra copy of chromosome 13 in only some of the body's cells. These individuals have a mixture of cells, some having two copies of chromosome 13 and some having three copies. The impact of having this extra chromosome 13 on a baby's development varies widely and depends on the number of cells that have this extra genetic material Like trisomy 13, mosaic trisomy 13 is not inherited.
Translocation trisomy 13
In individuals with a translocation form of trisomy 13, part of chromosome 13 becomes attached (translocated) to another chromosome. Affected individuals have two separate copies of chromosome 13 plus extra material from chromosome 13 attached to another chromosome, resulting in three copies of genetic material from chromosome 13. This type of trisomy 13 occurs less commonly and can sometimes be inherited from a healthy parent.
The incidence of trisomy 13
Trisomy 13 occurs in 1 in 6,000 to 1 in 29,000 live births. The overall prevalence is higher in pregnancy because many babies with trisomy 13 will miscarry before delivery. Although a pregnant person could have a baby with trisomy 13 at any age, the chance increases with maternal age.
Features of trisomy 13
The extra chromosome 13 can affect the development of each baby differently. In general, babies with trisomy 13 have severe intellectual disabilities and can have birth defects in almost every organ system in their body. Some common features include:
Holoprosencephaly (failure of the brain to divide properly)
Kidney abnormalities
Spina bifida
Omphalocele (sac attached to the abdomen)
Cleft lip and/or palate
Polydactyly (extra fingers or toes)
Eye abnormalities (small or absent eyes)
Cutis aplasia (missing skin on the scalp)
Life expectancy
The life expectancy of babies with trisomy 13 is difficult to determine however it is estimated that the 50% of babies with trisomy 13 survive past the first week of life, and approximately 10% of children live beyond the first year.
Next steps
You may be hearing about trisomy 13 because your prenatal screening test (eFTS, MSS, NIPT) was positive or high risk for having a baby with trisomy 13. If this is the case, your health care provider should offer to refer you for genetic counselling to review your test results and your options for additional testing.
Additional resources
Sources for this page
Peroos S, Forsythe E, Pugh JH, Arthur-Farraj P, Hodes D. Longevity and Patau syndrome: what determines survival?. BMJ Case Rep. 2012
U.S. National Library of Medicine. Genetics home reference [Internet]. Bethesda (MD): U.S. National Library of Medicine; 2017.