Trisomy 21 (known commonly as Down syndrome) is a condition that is the result of a person having an extra copy of chromosome 21. This extra copy of chromosome 21 is typically found in every cell in that person's body. All individuals with Down syndrome have extra genetic material from chromosome 21 which alters the course of their development. Every individual with Down syndrome is unique and the impact of this extra genetic material on their development varies widely. For individuals with Down syndrome, there is a greater chance of having physical and developmental challenges that may affect their heart, stomach, bowel, thyroid, vision and hearing. Treatment is available for many of these conditions and many individuals with Down syndrome will lead healthy and productive lives.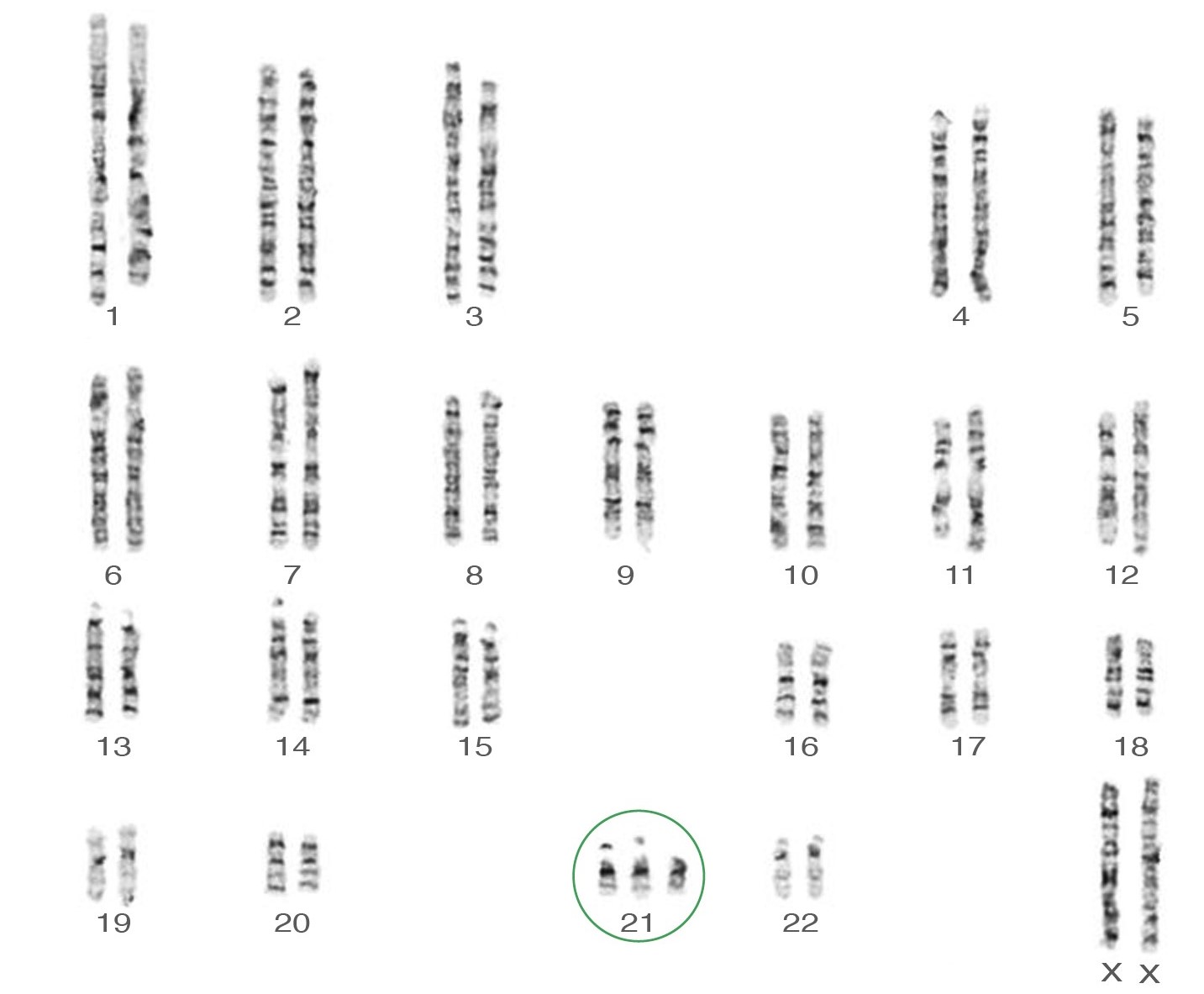 Trisomy 21 karyotype
Illustration adapted from Genetic Counseling Aids, 7th Edition, Copyright 2020, permission for use granted by Greenwood Genetic Center
The incidence of Down syndrome
In general, about 1 in every 800 babies in Canada has Down syndrome. Although a pregnant person can have a baby with Down syndrome at any age, the chance increases with maternal age.
Health and development
The strengths and limitations, as well as skills and abilities of individuals with Down syndrome vary greatly. There is an increased chance of certain health issues and individuals will experience some level of intellectual delay (typically mild to moderate). While individuals with Down syndrome do look like their family members, they typically share some common physical traits (for example, certain facial features). Health issues can include congenital heart defects, hearing or vision loss, respiratory infections and hypothyroidism. There may also be issues in babies and children related to feeding and digestion as well as an increased risk for childhood cancer (leukemia).
Although some of these health concerns can be seen before a baby is born, it is not possible to predict all of the health challenges a child with Down syndrome may experience until they begin to grow and develop. In the same way that we cannot predict the medical concerns a child with Down syndrome will have, we cannot predict how a family will cope with raising a child with Down syndrome.
It is important that families are offered appropriate counselling and referrals to providers and specialists with knowledge and experience with Down syndrome and who are able to consider families' personal values and beliefs around decision-making.
Life expectancy
Treatment for most of these health issues is available and many individuals with Down syndrome will lead healthy and productive lives. Many adults with Down syndrome are able to live independently, have a job and be an active member in their communities. The average life expectancy of people with Down syndrome is now 60 years or more.
Types of Down syndrome
Trisomy 21
It is estimated that 95% of cases of Down syndrome are the result of three copies of chromosome 21 in every cell of the body. This type of Down syndrome is typically not inherited.
Mosaic Down syndrome
A smaller percentage of individuals with Down syndrome will have an extra chromosome 21 in only some of the body's cells. These individuals have a mixture of cells, some having two copies of chromosome 21 and some having three copies. Like trisomy 21, mosaic Down syndrome is not inherited.
Translocation Down syndrome
In individuals with a translocation form of Down syndrome, part of chromosome 21 becomes attached (translocated) to another chromosome. These individuals have two separate copies of chromosome 21 plus an extra chromosome 21 attached to another chromosome, resulting in three copies of genetic material from chromosome 21. This type of Down syndrome occurs less commonly and can sometimes be inherited from an unaffected parent.
How to get more information
You may be hearing about Down syndrome because your prenatal screening test (eFTS, MSS, NIPT) was positive or high risk for having a baby with Down syndrome. If you are looking for further information and resources, discuss with your health care provider whether a referral for genetic counselling to review your test results and your options for additional testing is appropriate.
Additional resources
Sources for this page
U.S. National Library of Medicine. Genetics home reference [Internet]. Bethesda (MD): U.S. National Library of Medicine; 2017. Available from: https://ghr.nlm.nih.gov