Amniocentesis is one type of invasive prenatal diagnostic testing that is available in Ontario.
Amniocentesis is performed for a variety of reasons. When it is done for genetic information, amniocentesis can determine if a pregnancy has a chromosome difference like trisomy 21, trisomy 18 or trisomy 13. It can also give a definite answer about whether there are sections of other chromosomes that are extra or missing. These other chromosome differences are not associated with an increase in maternal age (or age of egg donor), and can run in families or occur spontaneously in the sperm or the egg that conceived the pregnancy. Additional genetic conditions can be tested if it is indicated for that pregnancy, and requested by the pregnant individual.
When amniocentesis is done
Amniocentesis is typically offered in the second trimester pregnancy and can be performed in pregnancies that are at least 15 weeks' gestation.
How it works
Amniocentesis procedures are performed at specialized centres in Ontario by specially trained physicians. An ultrasound is performed to show the physician the location of the pregnancy and of the placenta. A needle is then inserted through the mother's abdomen into the surrounding fluid and a small amount of amniotic fluid is withdrawn. The needle does not touch the fetus. The fluid is then sent to the testing lab for analysis.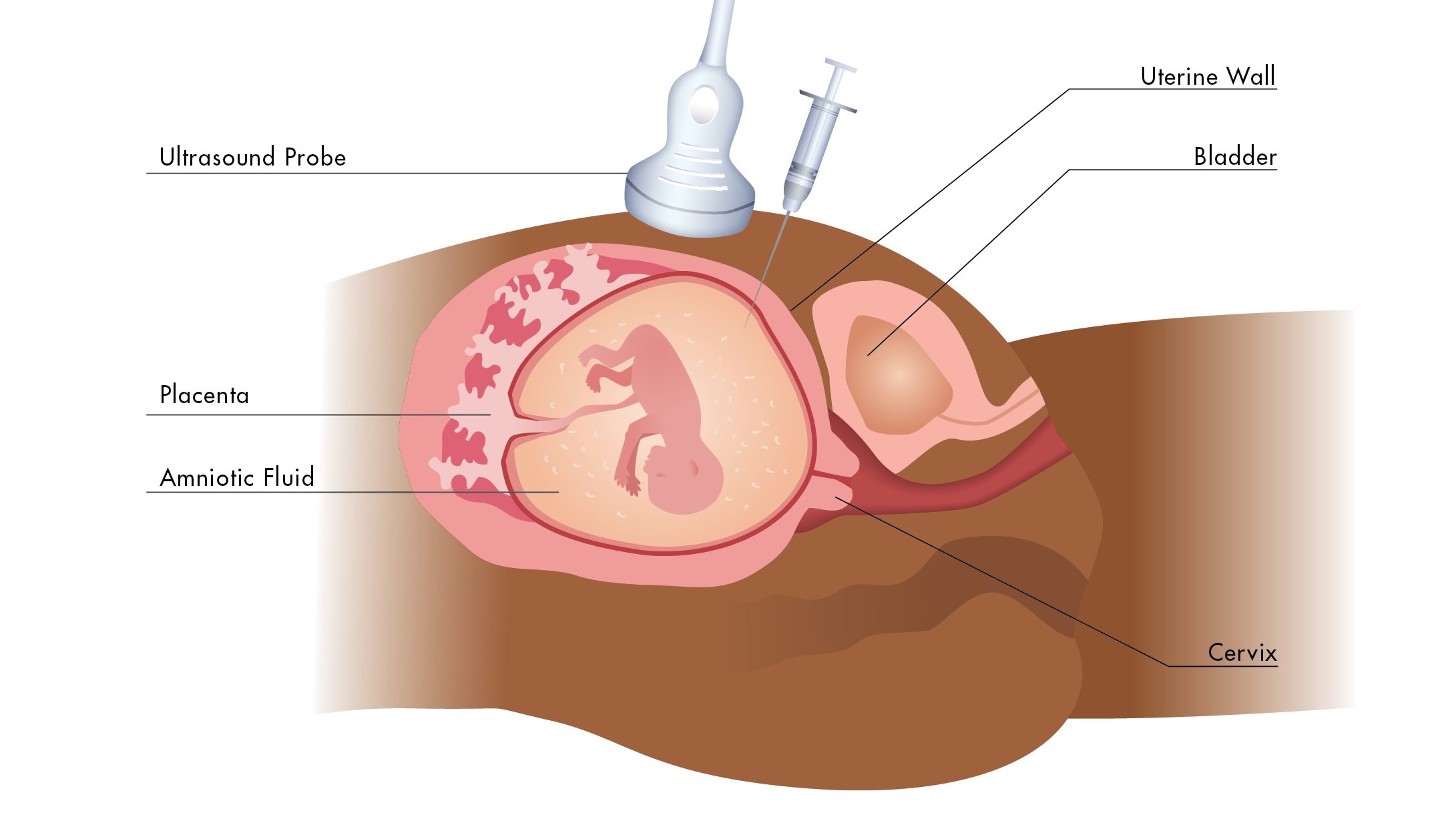 Illustration adapted from Genetic Counseling Aids, 7th Edition, Copyright 2020, permission for use granted by Greenwood Genetic Center
Results
Amniocentesis results are sent directly to the health care provider who ordered the test; results are typically available within 2-3 weeks but can vary depending on the type of testing that is ordered. Individuals should confirm with their health care provider when to expect results.
It is important to know that amniocentesis can only provide information about chromosome differences in the pregnancy. Amniocentesis cannot identify every possible condition and will not provide information about any structural abnormalities (e.g. heart conditions).
Benefits of amniocentesis
can give a "yes" or "no" answer about chromosome changes
has no risk of placental mosaicism that can occur with chorionic villus sampling (CVS)
Limitations of amniocentesis
it is important to understand that there is always the risk for pregnancy loss at any point in gestation. Amniocentesis increases this risk by <1%.
offers results later in pregnancy than CVS, typically in the second trimester
How to get more info
If you have questions about invasive diagnostic testing, contact your Regional Genetics Centre or Prenatal Screening Ontario for more information.