Amniocentesis is one type of diagnostic testing that is available in Ontario during the pregnancy. Amniocentesis can be done after 15 weeks of pregnancy (until birth), and can give you definitive answers about the conditions you choose to have testing for.
Who Can Have Amniocentesis
Reasons why you may be thinking about having amniocentesis include:
you got a "screen positive" result from enhanced First Trimester Screening (eFTS) or Second Trimester Screening (STS).
you got a "high risk" result or a failed result, from Non-Invasive Prenatal Testing (NIPT).
one of your ultrasounds picked up a difference in the growth or development of the baby. For example, the nuchal translucency is increased compared to what what we typically see, baby is smaller than expected or there is a heart defect.
there is a specific genetic condition running in your family, and you wish to have the baby tested for it before birth.
How to Get Amniocentesis
If you are interested in amniocentesis, speak to your health-care provider about referring you to a specialist in genetics. There, you will get more information about this OHIP-funded test, and the team will arrange it if appropriate.
How It Works
Amniocentesis is done at specialized centres in Ontario by trained doctors. An ultrasound is done to show the doctor the location of the pregnancy and the placenta (the organ that connects you to the baby). Using ultrasound as a guide, a thin needle is then inserted through the skin into the fluid that surrounds the baby, and a small amount of fluid is taken. The needle does not touch the baby. The fluid has DNA (genetic material) from the baby, and is sent to the lab for testing.
The procedure generally takes a few minutes. Some people experience brief discomfort such as cramping, or pressure during the procedure. You will be able to return to your regular activities within one to two days after the amniocentesis.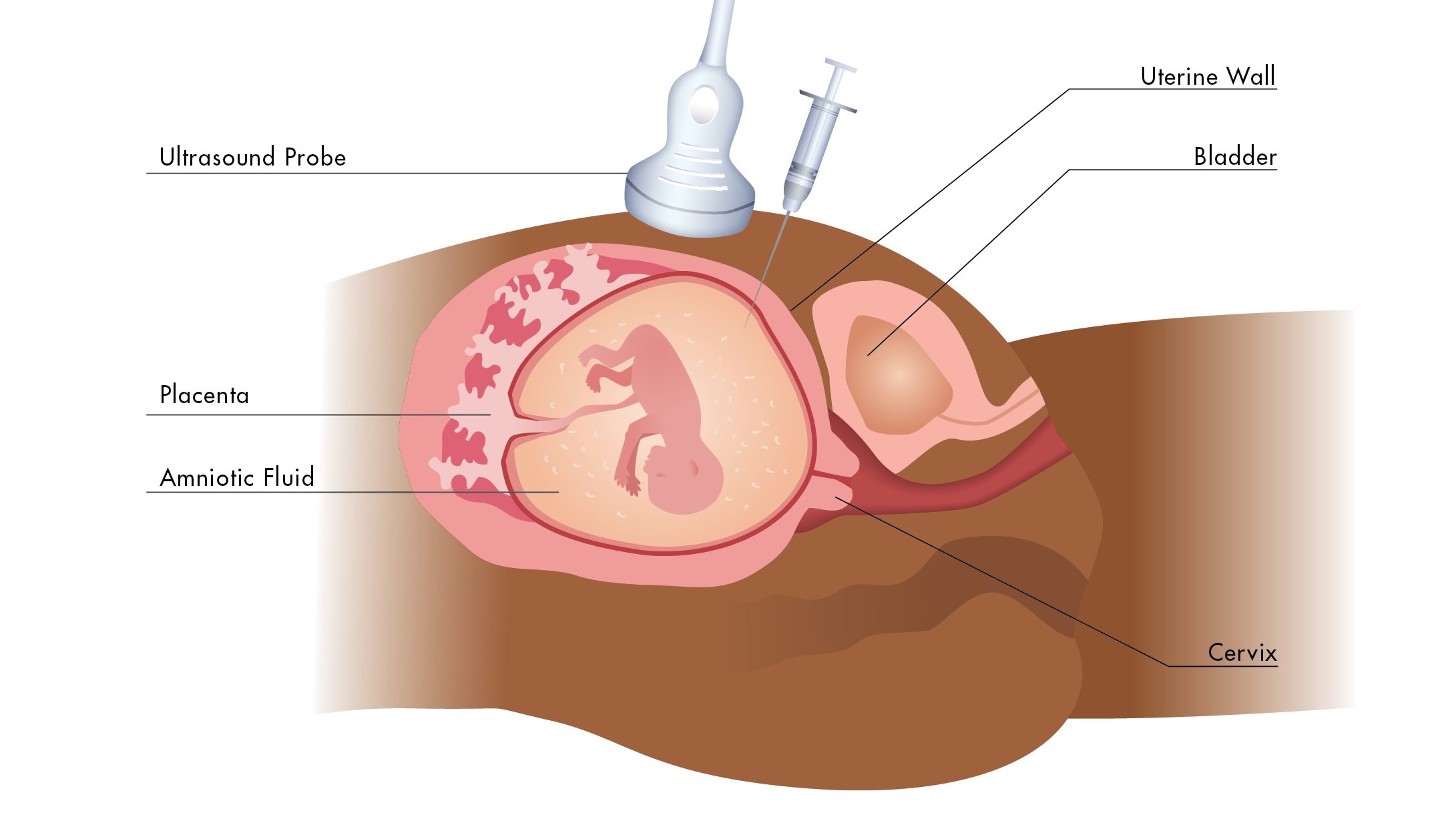 Illustration adapted from Genetic Counseling Aids, 7th Edition, Copyright 2020, permission for use granted by Greenwood Genetic Center
What to Expect After Amniocentesis
There is a risk of miscarriage (losing the pregnancy) from amniocentesis which can make it difficult to decide whether to have this procedure. It is important to remember that there is always the chance of pregnancy loss at any point in pregnancy even if amniocentesis is not done. Amniocentesis increases this risk by less than 1%. Amniocentesis does not cause other complications for the baby (such as birth defects).
If the amniocentesis is done later in pregnancy, the risk is not for pregnancy loss; rather, the risk is to give birth to the baby earlier than expected.
Results
The type of results depends on which centre did the amniocentesis and what testing is ordered. It is important to speak with your genetics specialist about what your results will include.
Rapid Results (also called QF-PCR)
Typically, you will receive a a set of results 2-4 days after the amniocentesis. These results can tell you if the baby has one of the following chromosome differences: trisomy 21, trisomy 18 or trisomy 13 or a sex chromosome difference (differences in X and Y chromosomes).
Depending on the hospital and the reason for testing, your testing may stop at this point or there may be additional tests done from the same sample of fluid:
Microarray test
This test will tell you whether there are pieces of other chromosomes that are extra or missing. These are chromosome differences that can run in families, but usually happen by chance in the sperm or the egg that made the baby. These chromosome differences do not happen more often as the pregnant individual gets older.
The results from the microarray test take approximately 2-3 weeks, but you can check with their health-care provider when to expect results.
Video on Chromosomal Microarray Testing
A short video created by Alberta Health Services, explaining the microarray test and possible results. In this video, the testing was done through a blood draw. The way the test works and type of results are the same when the microarray is done through amniocentesis.
Other genetic conditions
Other genetic conditions can be tested if there are other concerns - e.g. there are certain signs on one of your ultrasounds, or there is a particular genetic condition running in the family (such as cystic fibrosis or sickle cell anemia).
All amniocentesis results are sent directly to the genetics specialist who organized the test.
Benefits
The main benefits are:
Diagnostic - can give a "yes" or "no" answer about chromosome differences.
Very accurate - tests the DNA/genetic material from the baby directly which makes this the most accurate diagnostic test.
More conditions are tested - can test for more genetic conditions compared to available screening tests, including NIPT.
Quick results - results on trisomy 21, trisomy 18, trisomy 13 are available faster than available screening tests.
Limitations
The main limitations are:
Done later in pregnancy - Amniocentesis is done later in pregnancy compared to the other diagnostic test (CVS), so the results are also available later.
Cannot test for everything - Amniocentesis cannot test for every possible genetic condition and will not give you information about any differences in the physical development of the baby (e.g. cannot pick up heart or kidney defects). Ultrasounds are still recommended to look for physical differences.
Getting results that you do not expect or are difficult to interpret - Rarely, we get results from amniocentesis that are difficult to interpret, which means it may be hard to know what the genetic difference that we see means for the baby's health or development.